Not sure where one of our necklaces will sit?
From longline to collar styles, use our handy necklace size guide as an aid to finding the perfect necklace length. Here you will also find useful additional notes on each of our necklace clasps. The length and size of each of our carefully chosen necklaces will vary according to the individual design. To help you with your choice, we have included all of these dimensions as a part of each unique specification on the product page. For further help with sizing, please refer to the diagram, bearing in mind that this is a general guide and that sizes and fit may vary from person to person.
Don't forget to read about each necklace clasp for an idea of how your new necklace will fasten.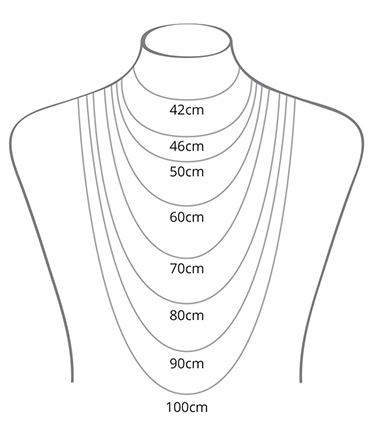 ---
Clasp Guide
Hook Necklace Clasp
This necklace clasp uses a simple hook-on, hook-off motion without the need to pinch for fastening. Shaped like an "S", the curved piece found at one end of the hook simply catches onto a circle or loop to hold the necklace in place.

---
Lobster Necklace Clasp
One of the more common types of necklace clasp, this fastening tool is shaped like the claw of a lobster. The lobster necklace clasp features a lever to the side that you can pinch to open the clasp and then release to close once the loop or circle is in place.

---
Spring Ring Necklace Clasp
Shaped like a ring, this typically smaller necklace clasp opens when you push back on the lever that slides along it. When the circular ring clasp is open, you can insert the piece of your necklace that you are connecting into the open circle and release the lever to close and fasten.

---
Slide Necklace Clasp
Usually used as a way to fasten multi-strand necklaces, slide lock clasps feature two bars. One of these bars can be slid into the other and the clasp will lock into place for fastening.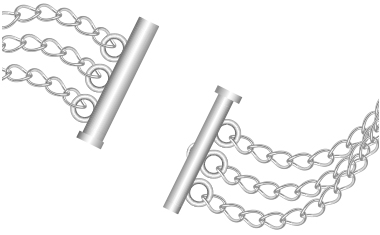 ---
T-Bar Necklace Clasp
With the T-bar clasp, a bar is used to pass through the circular ring and secure the necklace in place.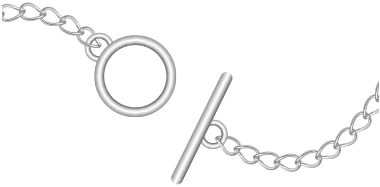 ---
Magnetic Necklace Clasp
A simple and functional way to fasten your necklace, magnetic clasp closures are the least fiddly way to secure your piece of jewellery. The clasp relies on a pair of magnets that will hold your necklace together.

---