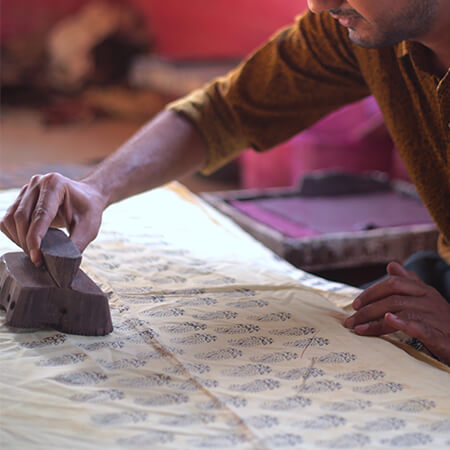 Hand-blocked
textiles
Our finds are hand-block-printed with intricate patterns and motifs. They are ethically made in India by a community-based group of artisans that use a centuries-old technique that requires wooden blocks to be carved, dipped in dye and then stamped by hand onto the cotton, gradually building up the pattern.
Screen printing
Crafted in Delhi, this technique of screen printing requires the printers to build up the patterns, printing each colour by hand. A screen is used for each colour starting with a fine mesh being stretched over a frame; a stencil is then formed by blocking off parts of the screen in the negative image of the pattern or motif. Once the fabric has been stretched the printer carefully aligns the screen and draws the ink across it, forcing the colour through the exposed mesh and repeating the process with each new screen to build up the pattern. Once dried, the finished fabric is treated and washed to reveal the finished pattern, which can then be cut and sewn.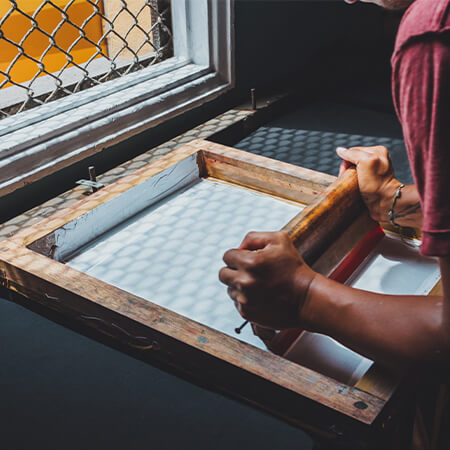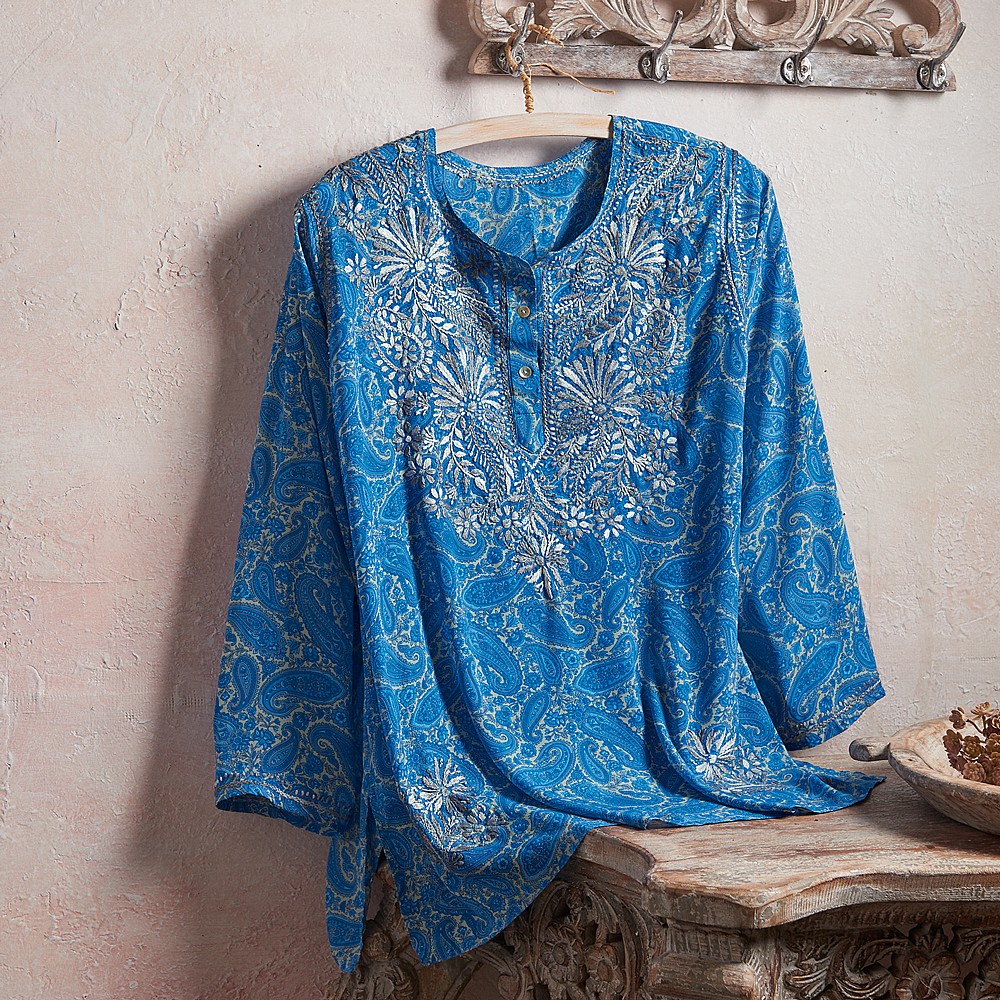 Chikan
embroidery
Many of our pieces are stitched by hand with traditional Indian motifs. The chikan style of embroidery is a traditional technique from Lucknow used to decorate textiles. Chikan work is typically applied to lightweight fabrics in order to highlight the delicacy of the embroidery. The technique involves the embroiderer sewing over a block-print pattern then washing the fabric to remove the dye.
Hand carving
of wood
Hand-carved finds are produced by our artisan partners in India – often ethically made. The world's fastest-growing trees such as albesia and mango wood provide a sustainable source of material for this time-honoured technique.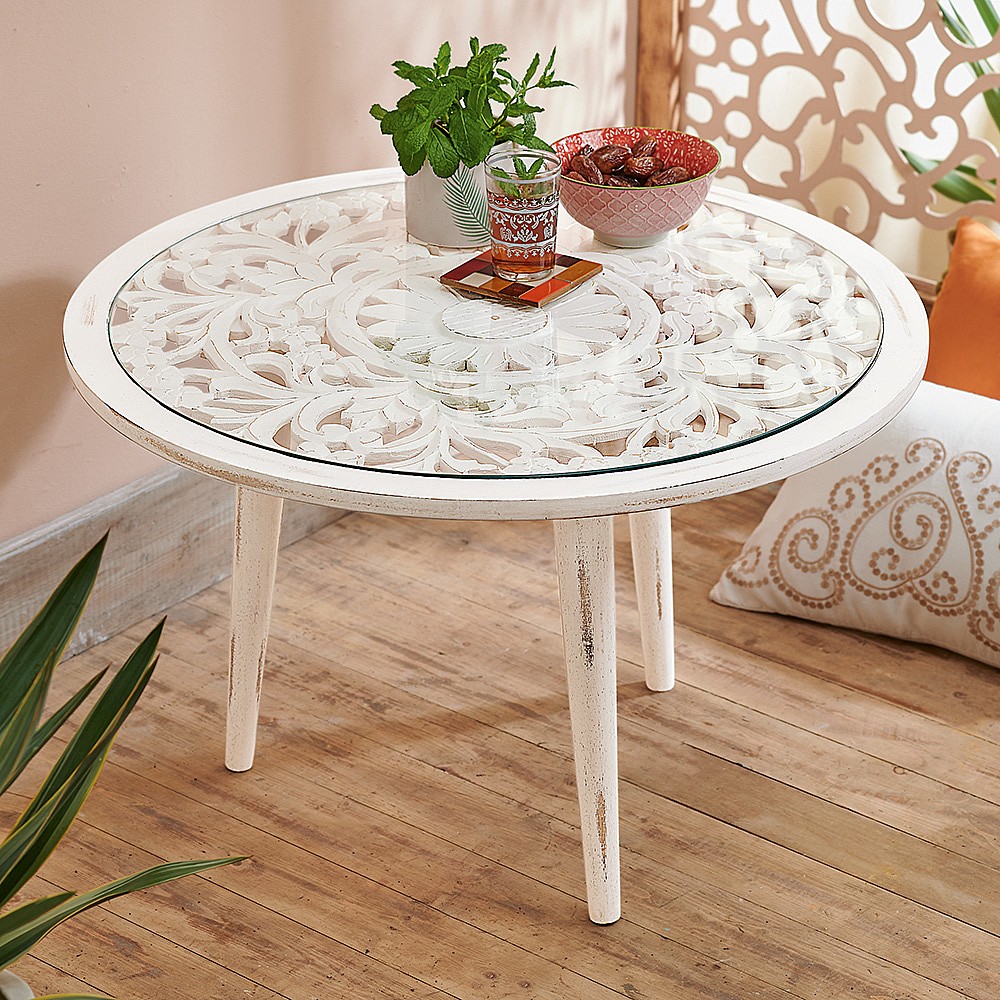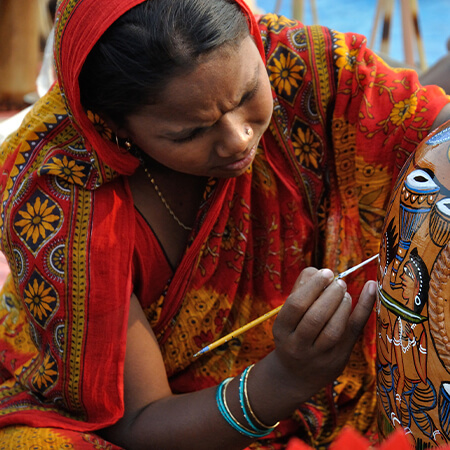 Traditional painted goods from india
Traditionally painted pieces come crafted by partner artisans in India. Demonstrating a wealth of regional motifs and artistry, the work supports small manufacture and allows freedom for families to earn a fair wage. Painted by hand, our finds reflect unrivalled generational skills and the woodworking expertise of individual craftspeople.
Tunisian
painted ceramics
Our Tunisian painted ceramics are produced by a small family-run company based in Tunisia, North Africa. A collective of skilled craftspeople aims to keep traditional handmade crafts alive through the production of hand-painted ceramics. Both unique and practical, their tableware references vibrant pottery motifs from the ancient decorative tradition of Tunisian master craftsmen.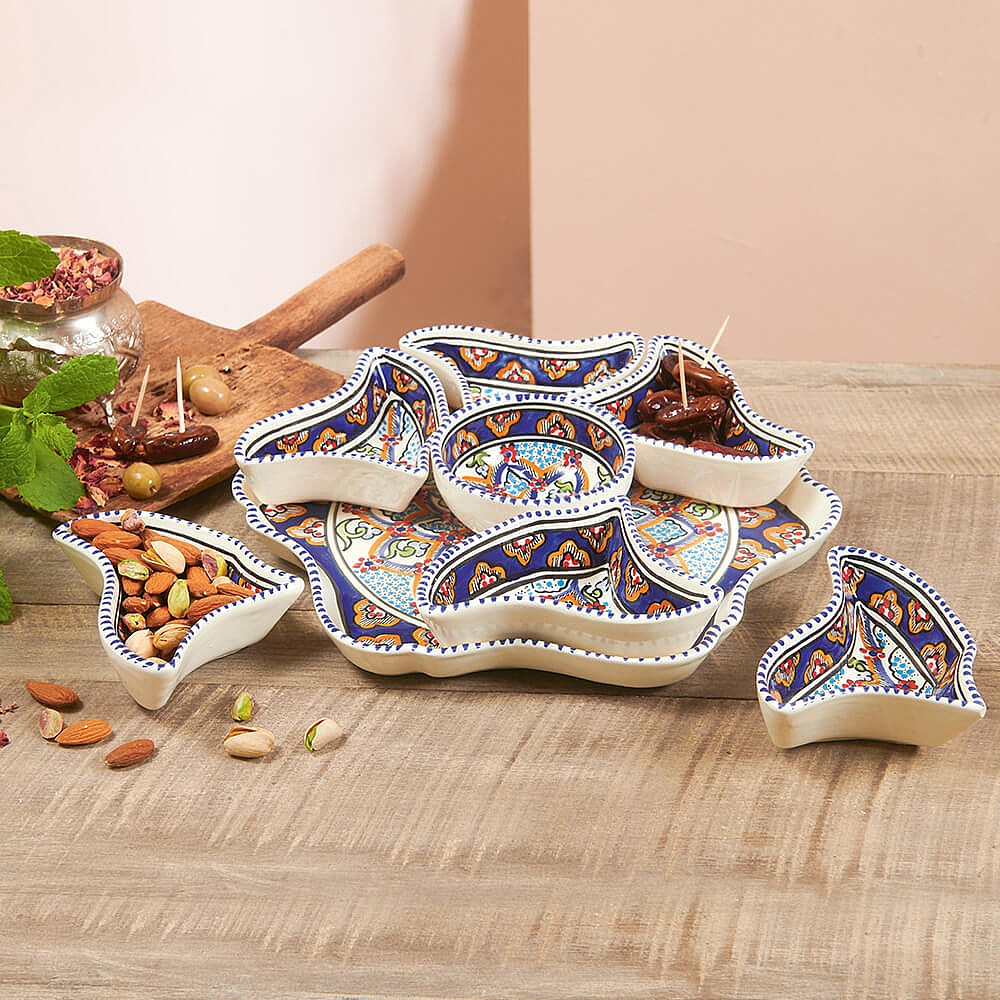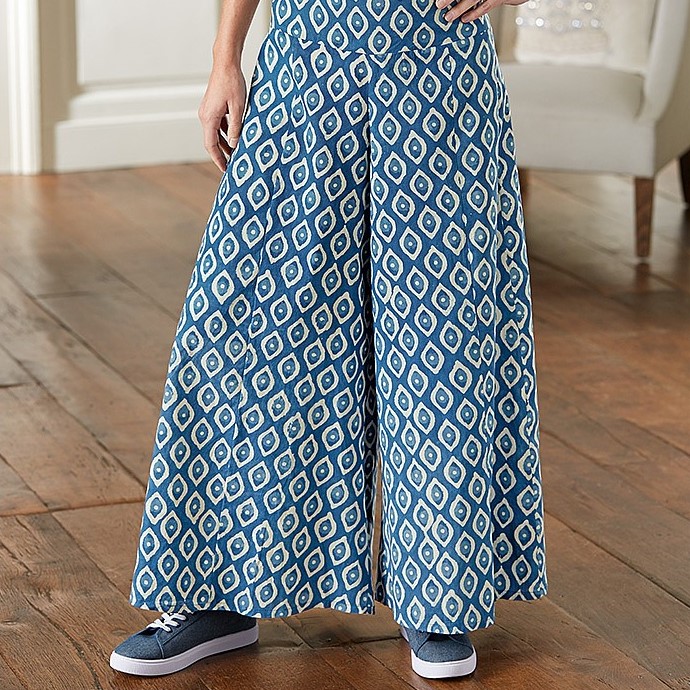 Orenburg
Scarves
Orenburg scarves are made using a luxurious blend of warm wool from Orenburg goats, bred to survive in the Urals, and silk. Expertly hand-crafted in Russia, this centuries-old textile tradition uses a technique dating back to the 18th century. 'Orenburgskyi Platok' are scarves and shawls so finely knit that they could pass through a wedding ring. Threads are spun by hand using a supported spindle, plied, and knitted before being washed and dyed the desired colour.
Polish
hand-painted
pottery
Ceramika Artystyczna Polish pottery is an eminent maker of hand-painted stoneware from Boleslawiec, Poland. Produced by our partners there, our Polish hand-painted pottery is of the highest quality – demonstrating artistry that is both exquisite and unique. Using naturally found white clay, artisans form each piece of pottery by hand and apply intricate traditional 'Unikat' patterns.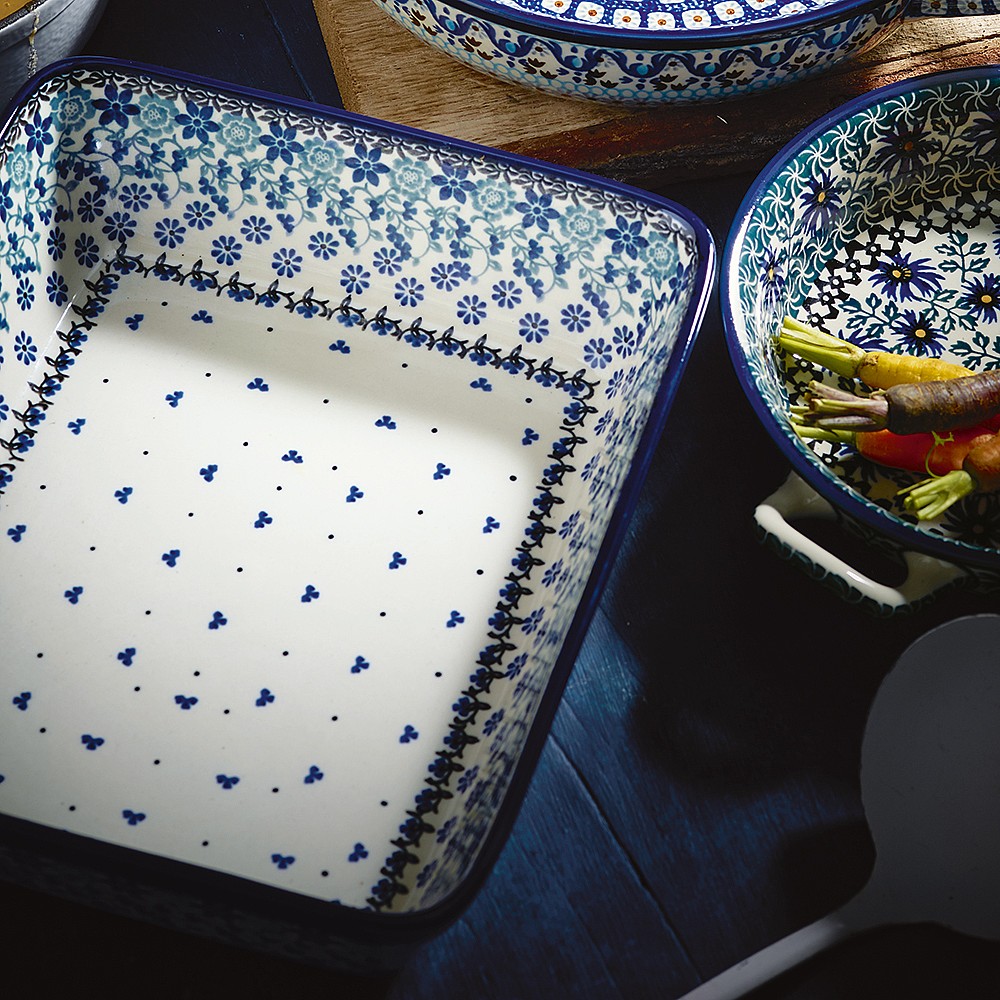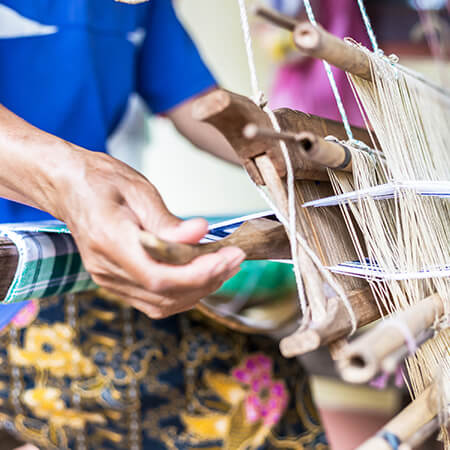 Traditional
weaving
Our eclectic and inspiring range of traditionally woven textile furnishings is fairly traded through our artisan partners. Woven styles use both traditional and contemporary techniques and are made by hand using a mix of fabrics such as cotton and jute. Ethically sourced and eco-friendly, the pioneering production of these designs helps to educate and develop communities where rug weaving is prevalent.
Hand-loomed
knits
Hand-loomed knitwear is skilfully produced by our partner manufacturers in Scotland according to traditional techniques and traditions. This fine quality knitwear originally manufactured in Haddington East Lothian in 1980, is made using locally sourced natural fibres of wool, lambswool and silk. Designed and manufactured entirely in Scotland from pure organic Scottish fibre yarns, each piece is hand-framed and hand-finished for distinctive heritage style.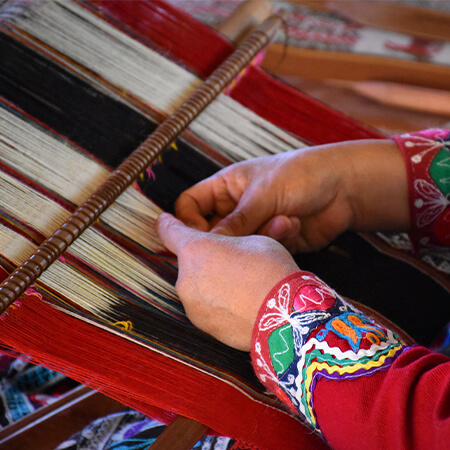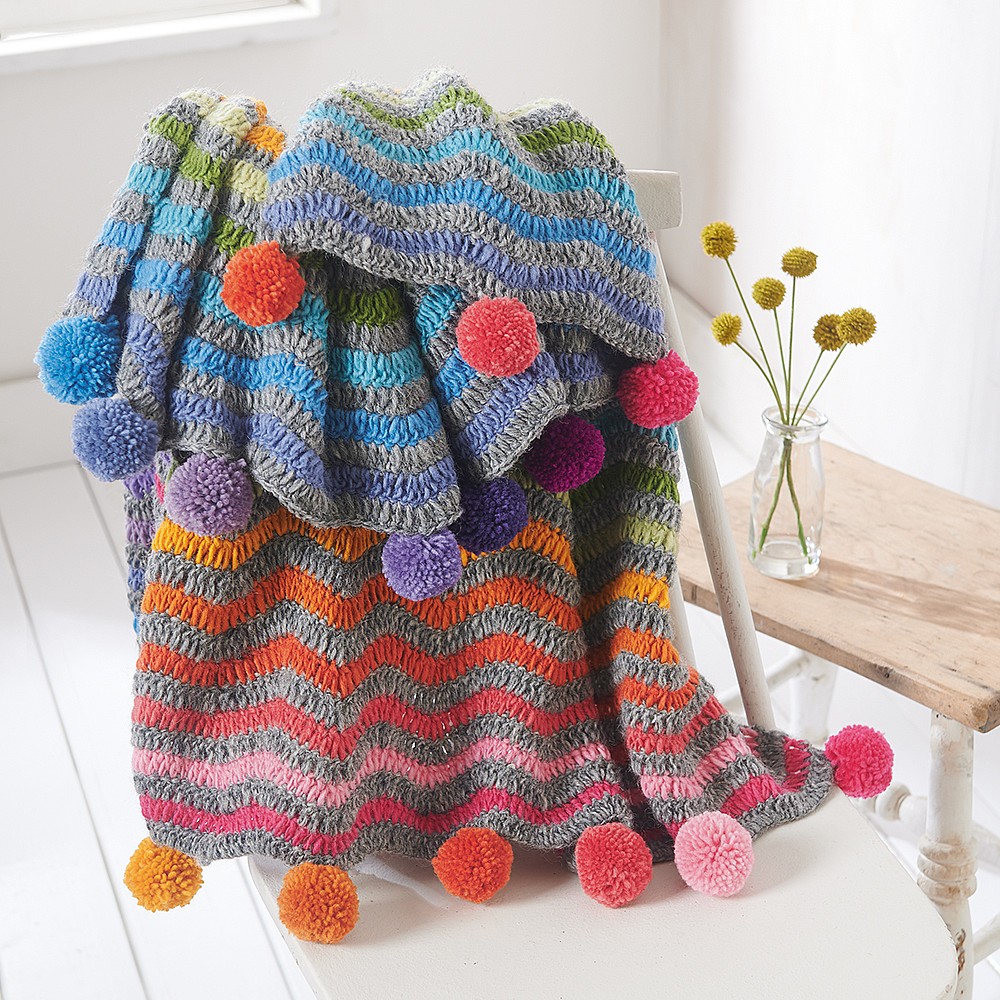 Nepalese knitting
and crochet
We are proud to support Nepalese production in village-based communities. Hand-knitted in Nepal with sustainably sourced raw materials, the work supplements local farming incomes for families. Hand-framed and hand-finished, our Nepalese knitwear enables craftspeople to work safely in excellent conditions with a reliable wage that is above local standards. Pieces demonstrate complex patterns, skilfully created by expert knitters.